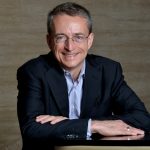 When Gordon Moore was chairman of Intel, he told me: "It's a peculiar business – the only sane strategy is to regularly bet the company. A conservative position – trying to live with the existing generation of technology – is a strategy to put you out of business fairly rapidly. You have to keep investing in the next generation of products and technology – you'll never get well on the old products – it's always the next generation that drives recoveries in the business cycle."
Intel hasn't bet the company for many decades, following instead the cost-cutting, high dividend, share buy-back route favoured by accountants and falling behind in the technology as a result.
Now, said Gelsinger, Intel is pursuing "a roadmap that brings us to performance parity in 24 and clear leadership in 25. I am happy to share that Intel 7, Intel 4, Intel 3, Intel 20A, and Intel 18A are all on or ahead of the timelines we set out in July."
Five nodes in four years has never been attempted, let alone achieved, before. 
Helping the process will be the support of governments around the world. Germany and Italy are among countries bidding to support Intel fab-building in Europe.
The US government will pull out all the stops to restore the primacy of US Semiconductor manufacturing.
"The market is expected to double to $1 trillion by 2030," said Gelsinger, " In that time frame, the market for leading-edge nodes will rise to be over 50% of the total, while the market for leading-edge foundry services will grow at twice the rate of the semi industry overall. We are one of the few companies with both the technical and financial resources to win in a market that is increasingly leading edge."
It sounds like a statement from Intel's glory days. Naturally, Wall Street hated it and hammered the shares